FREE
Accessible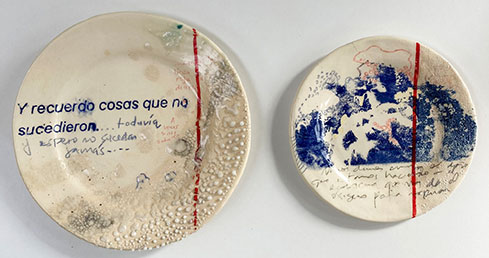 Libraries
Date
12 Sep 2023 - 31 Oct 2023
Venue
Margaret River Library
Location
16 Fearn Avenue, Margaret River WA, Australia
An Exhibition Of Earthenware Plates In The Cocoon Gallery For Emerging Artists
Born and raised in Buenos Aires, Argentina. Dolores Delia nurtured herself and studied for several years in the vast and complex fine arts world. Exploring and experimenting with mixed media, she works mostly with printmaking, photography, paint and ceramics. She currently lives and works in Margaret River and has her studio in a shared space, an old ceramic studio, in town where she has been exploring graphic work in clay.

This constant experimental practice portrays nature and fate as masters of inspiration. Image, texture and poetry are combined in random.

In this exhibition Dolores addresses the plate as the vehicle that transports our food. The limit, the measure of the ephemeral pleasure of each meal. A symbol, the foundation of what we put into our bodies, what we eat, and sometimes eats us. What are we putting on our plates? She is referencing more than food, thoughts, feelings, image and concepts.

This thought provoking exhibition continues until the end of October and is on display during library opening hours.