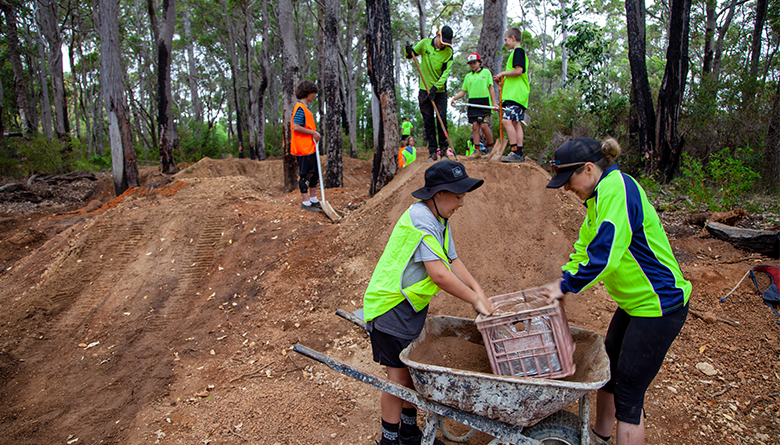 Over twenty local young people participated in a workshop on Friday 6 January to help with the construction of a mountain bike trails skills area in Brookfield.
Participants aged 11 to 15 joined in a Shire organised workshop led by local trail builders, Magic Dirt Trailworx to learn about sustainable trail building, environmental stewardship and help construct the trail area for an outdoor recreation space in a local Brookfield reserve.
The workshop is a part of a twelve-month trial of the sanctioned mountain bike skills area at the Public Recreation Reserve 48184 on the corner of Leschanaultia Avenue and Andrews Way in Brookfield.
Participants on the day also contributed to the creation of a Code of Conduct for the trial of the sanctioned mountain bike skills area.
Development of the mountain bike skills area in the reserve will be complemented by work to rehabilitate and improve the quality of the surrounding bushland area, including weed control and revegetation.
Further community events will be held during the year, including planting sessions, to support the environmental management of the bushland now clearly delineated from the trails.
For more information on the mountain bike skills area trial in Brookfield visit
yoursay.amrshire.wa.gov.au/proposed-mountain-bike-skills-area-brookfield
13 Jan 2023
Topic
Type
General News
Place
Margaret River
Share this page