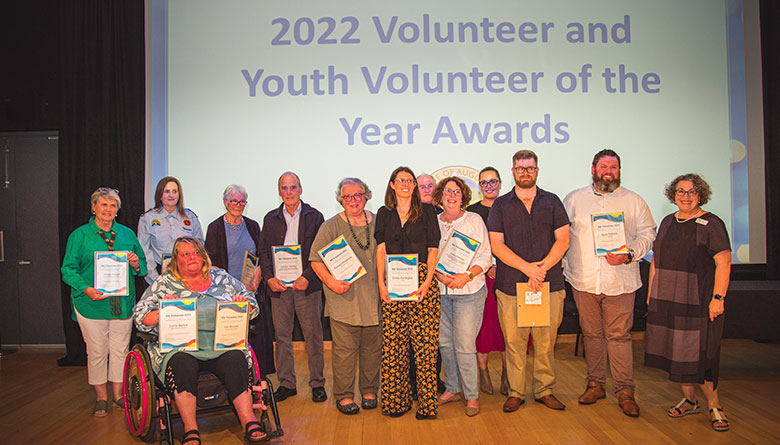 Local volunteers representing volunteer organisations from across the Shire of Augusta Margaret River came together on Thursday 8 December to celebrate the collective contribution they make to the region.
Held in conjunction with International Volunteer Day, the Shire of Augusta Margaret River hosted the annual event as an opportunity to recognise and thank volunteers who work across 230 active volunteer organisations in the region. With the support of several local businesses, volunteers and their families were treated to complimentary canapes, beverages, gifts and prizes, and enjoyed live music by Keira Jas.
A highlight of the evening was the presentation of the 2022 Volunteer and Youth Volunteer of the Year Awards. Thirteen nominations for the 2022 Volunteer of the Year Award were received from members of the community. The panel which included Shire President Paula Cristoffanini, Councillor Ian Earl and 2021 Volunteers of the Year Brendan Jordan and Sally Hays ultimately decided to award two winners for 2022.
Jan White from the Augusta Community Nursery, Augusta Coast and Landcare, Augusta Lions Club and the Augusta Historical Society and Gordon Temby from the Wallcliffe Volunteer Fire Brigade, the Margaret River Men's Shed and RSL, were recognised as the joint winners for the 2022 Volunteer of the Year Award.
Certificates of appreciation were also awarded to Barbara Maidment, Bernie Jones, Curtis Bacich, Elle Weston, Emma Partington, Jarrod Masotto, Jasmine Meagher, Jenny Kikeros, Ryan Pollock, Vivian Halsall and Wendy Coffey, who were nominated for their countless hours in contributing to the success of various community organisations.
The 2022 Youth Volunteer of the Year was awarded to Kai-Anna Prendergast for her involvement and contribution to Football Margaret River, with certificates of appreciation awarded to Elleni Lambert, Joshua Yates, Michaela Branigan, Ruby Ballard and Sam Joyce.
Without volunteers, many of the projects, events, groups, facilities and services in our community would simply not exist. Thank you to all volunteers for making our community an inclusive, supportive and vibrant place to live.
09 Dec 2022
Topic
Type
General News
Place
Margaret River
Share this page