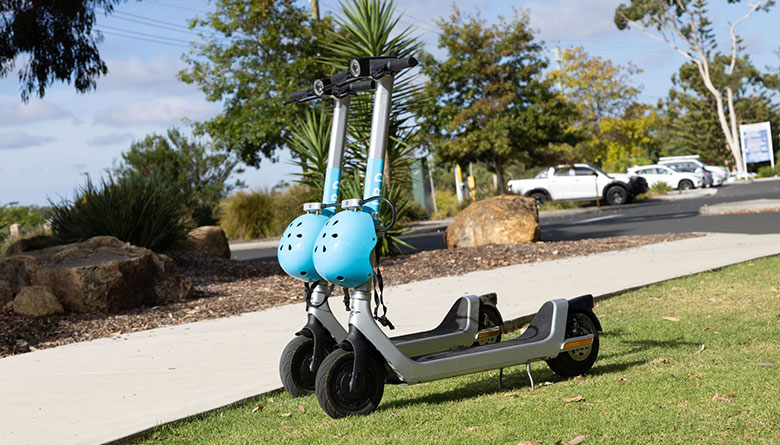 The 12-month trial of an e-scooter operator in the Shire of Augusta Margaret River has been cancelled early to due to non-compliance with permit conditions. The conditions in question included measures relating to safety and rider conduct.
On 10 May 2023, the Augusta Margaret River Council voted to give Bird Rides Pty Ltd 14 days to comply with their original permit conditions or risk having their permit cancelled.
Shire President Paula Cristoffanini said the Shire had listened to community concerns and was working closely with the WA Police to come to the decision.
"The safety of our community members remains our highest priority," Paula said.
"Whilst we see the value of e-rideables as part of our local transportation mix, our Council is not satisfied with the risk management measures put in place by this e-scooter provider to ensure that their scooters are used safely as they proposed."
Since e-scooters arrived in local townsites in March this year, the Shire and local Police have had the opportunity to observe their use.
"During this time Margaret River Police and community members have raised serious concerns about the lack of controls in place to stop unsafe use of Bird's e-scooters.
"Police have also raised concerns with us around the impact of unsafe e-scooter use on their operations.
"Of particular concern is the number of underage people using these devices, lack of helmet use, two people riding in tandem and e-scooters creating safety issues for vehicles and pedestrians in town," Paula said.
Council recognises the value and positive benefits e-rideables can bring for reducing transport related carbon emissions and providing cost-effective alternative means of transport, provided users observe the Road Traffic Code as all vehicles are required to do.
"We know e-scooters and other electric powered transport options are here to stay but there is yet a way to go for all of us as a community to navigate their safe use and mitigate safety concerns," Paula said.
People using e-rideables are encouraged to use these transport options with care and respect for all footpath and road users.
29 May 2023
Topic
Type
General News
Place
Share this page