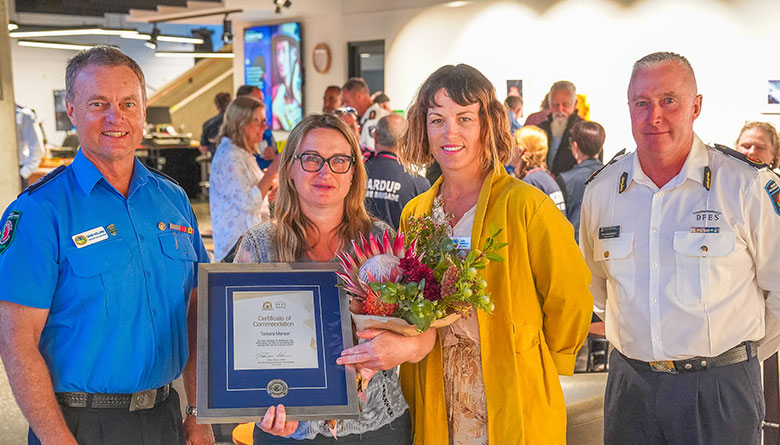 Heroic Efforts of Tamara Manser Recognised
The heroic efforts of a Karridale local, Tamara Manser have been acknowledged at a special awards ceremony held by the Shire of Augusta Margaret River and DFES last week.

DFES Superintendent Phil Brandrett presented a Certificate of Commendation - the highest DFES award for service of meritorious nature and outstanding actions - to the Volunteer firefighter for her bravery and dedication in providing lifesaving first aid to a 25-year-old French man, in the midst of a fire.

Tamara was attending a major grass fire incident with the Karridale Bush Fire Brigade's in February 2023 when a man was engulfed in flames. He had mistakenly used highly flammable ethanol to try and extinguish a fire, causing burns to approximately 80% of his body.

As emergency services personnel worked to contain the fire around her, Tamara administered first aid, pouring water on the man to cool his skin, and stayed with him to offer reassurance until he could be airlifted to Perth.

With a challenging bushfire season expected Shire residents and visitors are urged to prepare their properties and make a fire plan at mybushfireplan.wa.gov.au.
20 Nov 2023
Topic
Type
General News
Place
Karridale and Kurdardup
Share this page